Secret Nature Shows The Difference
Between CBD Isolate And Full Spectrum CBD
By Erika Harris 
Secret Nature Offers Some Clarity About Cannabidiol (CBD)
The hemp industry has had a lot of rapid changes in legislation AND innovation. This leaves many consumers and patients understandably confused about CBD, wondering:
What is and isn't legal?

Which kind of CBD (isolate or full spectrum) is best?

There are so many suppliers! How do you choose one?

There are so many distillation methods! Which is best?
This article will guide you or your loved one through those questions, as well as a few other important things that should be considered, before buying CBD in today's complex market.
Let's get the most technical question out of the way, first. Secret Nature uses the supercritical CO2 extraction method. The process is more thoroughly described here. And the review of Secret Nature here.
There is plenty of information available online about this extraction method, as it is used to extract flavorings and fragrances for other industries, as well as compounds from cannabis and hemp. Supercritical CO2 extraction is highly regarded because of its non-toxic end result.
The life-cycle of Secret Nature's CBD-rich hemp flowers starts mindfully from seed (which is discussed more, a bit further along), includes this chosen distillation method, and is only made complete with happier, clients.
An Easy Way To Understand The Difference Between CBD Isolate, And Full Spectrum CBD
Imagine opening a can of beer or soda.
Now, imagine opening that can with just one finger.
That's a basic metaphor to grasp how differently an isolated molecule functions from a full spectrum of them. The isolate, as a stripped compound, is like a single finger. It can do things, but not as well as an entire hand can.
Secret Nature's CBD Leverages The Entourage Effect
Etymology is the study of a word's original meaning. It is similar to distilling a word's definition, to get at its essence. The essence of 'entourage' is surround.'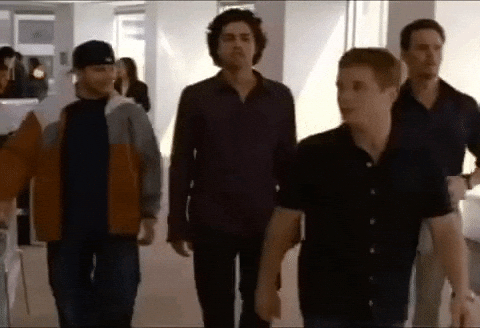 This is how the entourage effect looks in human form, featuring a posse of bros. See how the four of them together, have more presence and power than one of them would have alone?
And this is how the entourage effect looks in botanic form, featuring full spectrum CBD. THC and CBD are merely two out of at least 111 other cannabinoids, (not yet fully explored, as research has been greatly hindered and delayed by the prohibition.)
Here is the PDF of a research paper collaborated by scientists in Italy and Israel that covers what is known about some of the other phytocannabinoids that make up the full spectrum, including:
Cannabichomene (CBC)

Cannabidiolic acid (CBDA)

Cannabidivarin (CBDV)

Cannabigerol (CBG)

Cannabinol (CBN)

Tetrahydrocannabivarin (THCV)
A Theory Of Why CBD Isolate Soared To Such Popularity So Quickly
It has become the way of the West to separate and fragment things, that started out whole. Consider these four examples:
Our

mind, body, and spirit

are not fully perceived and treated as connected

(so loneliness, holiness and sexiness all act awkward around each other, even though they are each real parts of our human experience).





The

organs and systems within our physical body

are not fully perceived and treated as connected

(so autoimmune diseases, where our immune system attacks our own body, are unnecessarily rampant).





Our

public/professional face, and our private/casual face

is not fully perceived and treated as connected

(so depression is pretty prevalent, estimated at

322 million worldwide

, because authenticity is repressed).





The

health of the planet, and the health of its people

, is not fully perceived and treated as connected

(so toxicity in air, water, soil, and human brains and bodies has become an accepted norm.)
Given these examples of accepted separation that so many already live with, it's not surprising that -- at least for a season -- it'd be fashionable to do the Western thing, and pull out and parade the morally/socially acceptable compound.
CBD Is Also The Compound Many Feel They Can "Take Home To Mom"
Granted, public opinion is changing for the better, but we are still a long way from removing the social stigma associated with the psychoactivity of THC. It was slut-shamed for 80 years!
Meanwhile, non-psychoactive CBD has maintained a scandal-free and drama-free reputation. Despite the first seven letters of its full name, cannabidiol, consumers have been saturated with the assurance that CBD WON'T GET YOU HIGH. So it's enjoyed a social pass, a legal pass, and therefore, a commercial pass (in all 50 states) that THC has not yet received in the US.
There was a strong market incentive to get CBD isolate out to people all over the
country.
Synergy is the interaction or cooperation between two or more substances. It's the synergistic presence of other cannabinoids, and terpenes that are needed to optimize efficacy. Nature rarely needs improving. Secret Nature CBD positions itself in agreement with nature.
CBD Is Not Made, Or Manufactured, Equally
Now, with a little better understanding about CBD, let's give some thought to the source of the hemp from which your CBD is made.
As seen in traditional agriculture, some hemp is grown with more of a Monsanto-mindset, and scale and volume is prioritized above the integrity and purity of the crop. When greed leads, contaminants like mold, and even pesticides are sometimes found in a substance intended for therapeutic use.
Secret Nature's Full Spectrum CBD-Rich Hemp Flower Is Cultivated In The Most Ideal Growing Conditions
The hemp grown by Secret Nature, is cultivated artisanally in small batches, tended with the greatest care and personal attention that even includes hand trimming and harvesting. Some of the hemp plants are sun-soaked, and others are provided the most complementary lighting systems available, in environmentally-controlled greenhouses.
Secret Nature CBD is, of course, completely organic and prides itself on maintaining top-shelf standards, from testing to taste to felt tranquility. You can read more about our boutique medicinal flower here. And find great recommendations about dosing and administration here.
We at Secret Nature CBD hope this article supports your exploration and navigation of the many ways hemp flower CBD can enrich your life. See our full spectrum CBD oil.